How to make lawn greener with 5 foolproof rules
Last updated:
Opening the window and seeing a shining green grass is such a great way to start an awesome day. Having a green lawn is the objective of every garden owner. As a homeowner, if you are looking for efficient ways to make your lawn greener then we will provide you accurate methods to achieve that. You'll astonish your neighborhood.
Feed your grass well
Why you should fertilize it
The grass is alive, hence it needs to be nourished carefully by fertilization.
This is one of the essential steps to ensure the quality of your lawn, because the surface layer of the soil where most of the roots are located must be regularly replenished with nutrients.
Note that it is much more efficient to fertilize moist soil to help the fertilizer penetrate the soil!
When and with what
The fertilizers are spread twice a year.
The first fertilization must happened at the start of the vegetation, at the beginning of the spring. In this season, the fertilizer must contain nitrogen, intended for the external part, that is to say the leaves, and which allows them to obtain their most beautiful color. However, the nitrogen dissolves quickly, it is recommended to make this supply two or three times during the spring.
The second fertilization takes place in the fall, where it mainly brings phosphoric acid and potash. These two elements promote the growth of the plant and the proper development of its roots.
Water your grass well
A lawn needs abundant and regular watering. The ideal is a sprinkler watering: either a simple sprinkler, or an automatic sprinkler buried by retractable nozzles.
When you should water your lawn
It is mainly in summer that the lawn needs to be watered, as well as sometimes in late spring and early fall.
Throughout the day, the best time to water for sure is early in the morning. By this way, with less sun and cooler temperatures, the water will go through instead of evaporating before the soil is able to absorb it.
Water less frequently with big amount
Watering a lawn every day is not recommended and it creates a vicious circle: the lawn will develop its roots very close to the surface of the soil, becoming very fragile and sensitive to the slightest forgetting to water. It is therefore preferable:
Water only twice a week, every 3 or 5 days, but wet the soil well
Water with 3 to 4 liters of water per m², to promote deeper rooting.
The following clues may help you to spot an insufficiently watered lawn:
The color of the lawn becomes darker and turns blue-green
Footprints persist when walking on the lawn
The blades of grass fold in on themselves
Aerate your soil
Why aerating your soil
Through the time, your soil is subjected to damages caused by stamping and charges passing on it. Consequently, it's going to create compaction. This will generate asphyxiation of the roots of your lawn. Thus, you should aerate your soil to allow a smooth air flow and let the water reach the root.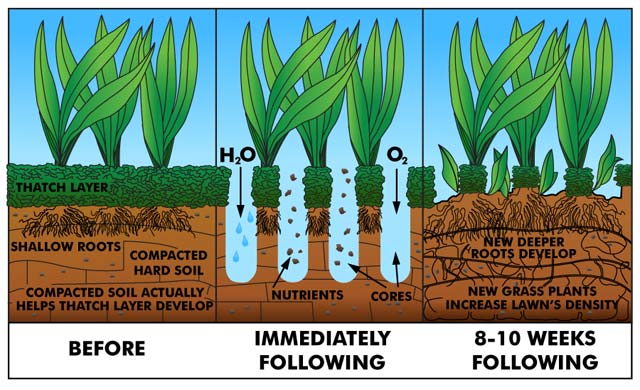 How and When to aerate your soil
Aerating lawn should take place in spring, at the beginning of the vegetation, and in autumn, when you'll fertilize the soil.
Basically, holes of 2 to 3 inches deep and 0.5 to 0.75 inches in diameter, and about 2 — 3 inches apart are convenient. In order to aerate your grass, there are 3 products providing convenient solutions.
The first one is the spike aerator. A spike aerator makes use of a roller with solid spikes to poke the soil.
The second object is the plug aerator. Plug aerators are composed of hollow tines in order to remove plugs of soil. By this way, the tools leave small gaps in the ground.
If you only have a small area of grass, this operation can be carried out thanks to the aerating pads attached to the shoes and which are provided with spikes like the rollers intended for larger areas. You can then ventilate your lawn while taking a few steps.
Scarify your grass
What is scarifying grass?
Scarifying or felting a lawn consists of scratching the ground to a depth of 2 to 4 mm to:
remove the layer of thatch (or felt) between the ground and the grass
uproot weeds
improve lawn growth and increase water penetration.
3 main types of scarifier exist nowadays:
The manual scarifier with handle, resembling a rake
The manual scarifier equipped with wheels
The electric knife scarifier, more powerful and therefore more efficient but also more expensive.
When and how to scarify?
You should scarify your lawn twice a year, like aerating, in spring and fall when you are about to fertilize it.
To scarify your lawn, you have to:
Mow your lawnfairly short
Work on slightly damp ground, if necessary, water your lawn beforehand.
Pass the scarifier:


by crossed passages to crisscross the ground;
the depth of scarification must not exceed 5 mm in order not to damage the roots of the lawn.

Carefully collect the waste.
Your lawn looks a little upturned, this is completely normal! Just avoid stepping on it for the next few days. It will regain the vigor and beauty of her early youth within a few days, I promise.
Get rid of weeds naturally
Why?
Weeds develop where they are not desired: in the beds, flower beds, between the slabs of terraces, paths, among the vegetables of the vegetable patch… and your lawn. They compete with your ornamental plants and their proximity promotes spread of disease. That is the reason why you should get rid of them.
How?
To get rid of, you can remove them manually, one at a time. It is pretty long and tedious. Here I propose you natural, earth-friendly and cheap ways to handle it:
Salt
There are two ways to use coarse salt to say goodbye to weeds. The first is just to pour coarse salt on the areas to be weeded and wait until it rains. If it is not raining, you can speed up the weeding process by sprinkling the coarse salt with water. The second method requires mixing 200g of coarse salt in 1 liter of water and simply sprinkling the weeds with this mixture.
Baking soda
Like salt, baking soda wreaks havoc with unwanted herbs! How to use it? Very easy! Pour baking soda on places overgrown with weeds and wait for the rain. If it is not raining, just like the coarse salt method, you can sprinkle with water. It's easy and convenient!
White vinegar
White vinegar also has natural herbicidal properties. To use it effectively, simply mix 1 liter of white vinegar in half a liter of water and sprinkle with this mixture the weeds to be eliminated. These weeds should quickly disappear and give way to a beautiful lawn.
---
Conclusion
As you might have read, making your lawn greener doesn't require magic tricks. Instead, your garden expects you to take care of it, and in return your lawn will be shining, green as emerald!
See you in a next post!